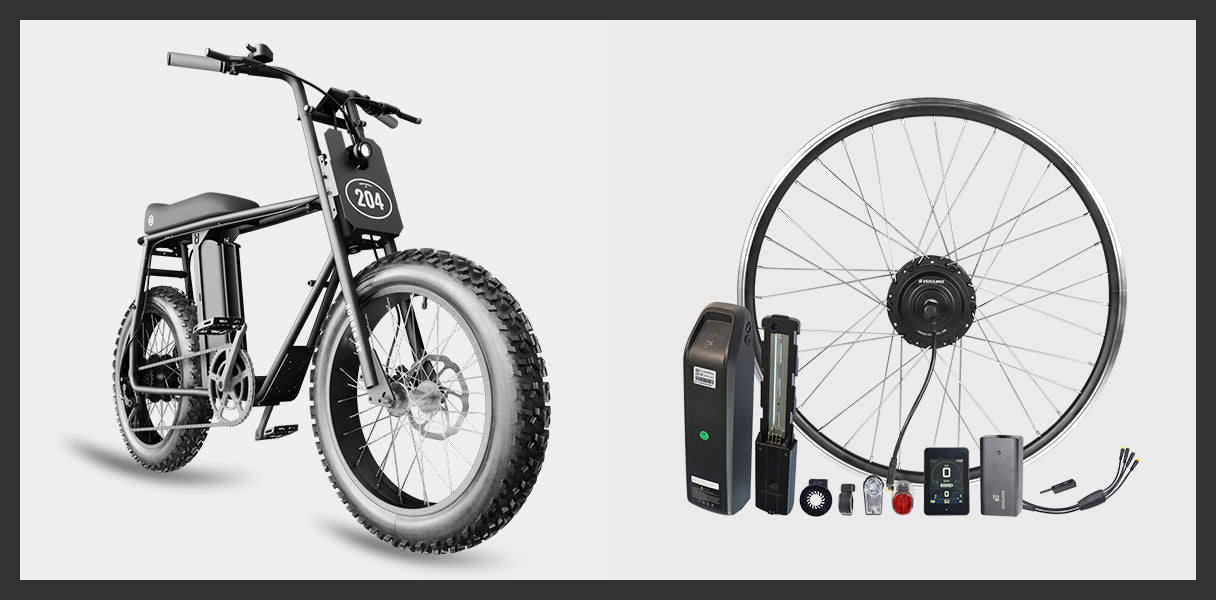 Although many people find that buying a new electric bicycle is the most accessible and most convenient, others may find it more attractive to convert an existing bike into an electric bicycle by adding a motor and battery.
The main difference between an electric bicycle and an electric bicycle made with a conversion kit is cost and customization. Electric bike modification kits are usually cheaper, probably only a few hundred dollars; if you have more demanding customization needs, then the price will be correspondingly higher. The cost of electric bicycles is generally thousands of dollars or more.
Ebike
Pros for Ebike
The design of the complete frame and parts, the bicycle is stunning and tidy, integrated with the battery and internal cable wiring, there are no extra cables outside, and the waterproof effect will be better.

Big brands of bikes have more quality assurance, and the after-sales service will be excellent.

You need to be ready to use or store uout of the box or require minimal assembly, no strong hands-on ability or time-consuming assembly.
Cons for Ebike
When the warranty finally expires, repairing any malfunctions can be very expensive.

Not accessible to upgrade-if you find that you need a more extended range battery, sometimes this option is not available.

If you have an accident and your bicycle is not insured. Replacement parts can be costly.
Ebike Conversion Kit
What's in the electric conversion kit bike?
The electric bicycle kit must be a motor, a controller and a battery. Some are optional, such as display, throttle, PAS, light, etc., which can make your electric bicycle more versatile. With eSoulbike's conversion kits, you will also get all the other parts needed for an e-bike, such as Pedal assistant and brake sensors, controllers, throttles and charger.
Pros for Conversion Ebike Kit
If you already own a bicycle, you can make an electric bicycle according to your specifications. For example, if you plan to ride long distances, you can install a more robust remote battery.

You can remove the conversion kit or replace it with a new bicycle at any time. If you want, you can move the electric bike kit to another bike in the future

In the end, as technology changes or your needs change, you will have a better chance to upgrade your electric bike kit.

Most Esoulbike kits are fully waterproof; it uses an integrated waterproof cable, the controller wiring is straightforward and clear, easy to install and connect. The bike body is also clean and tidy.
Cons for Conversion Ebike Kit
A certain degree of mechanical ability is required to modify the bicycle on its own.

These kits usually have a lot of wiring, which can make your finished bike look a bit "DIY".

If you buy a factory-manufactured brand electric bike, it will most likely come with a 2-year parts and labour warranty.  
"I am going the DIY route. Never worked on a bike before, but have built campers and wired them for 12volt with solar, so I can do this. DIY allows you more control over w hat components you use. I am almost done converting into a camper and the bike fits nicely inside the van for when I travel to areas to explore on the bike, I didn't want a $2500 ebike on a bike rack sitting on the back of my van when I have to run into walmart. I feel safer it is inside, sight unseen."
"It looks great. My favorite option is the conversion kit! Especially for me as a newbie to bicycles and electric bicycles." --Someone said in the ebike vs ebike conversion kit forum.
Conclusion
If you have a sufficient budget and want reasonable quality assurance, then an electric bike is a good choice. If you have a limited budget or are more willing to change and upgrade your bike, the e-bike conversion kit is more suitable.
Esoulbike conversion kits work with almost all bike models, from city bikes to tricycles. So if you have made up your mind, please check out our complete product listings and choose the suitable model for you.
Have fun with your converting project, and we wish you happy rides on your new e-bike!