Are you looking for a way to convert your regular bike into an electric bike at a lower price? If so, you're in luck! There are several electric bike conversion kits on the market that are affordable and high-quality.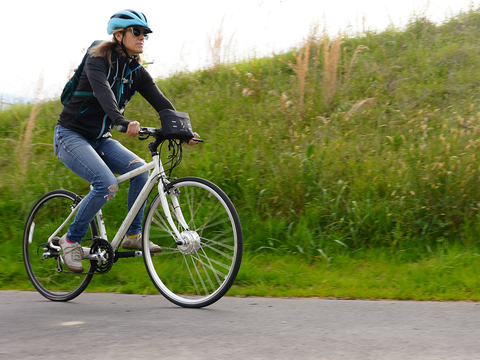 In this blog post, we will discuss the best electric bike conversion kits for every budget. We'll also provide some tips on how to choose the right electric bike conversion kits for your needs.
So whether you're on a tight budget or you're willing to spend a little more on quality, we have the perfect kit for you!
To choose the best cheap e-bike conversion kits on the market, we employed comprehensive researchers. We evaluated dozens of kits before choosing the top contenders.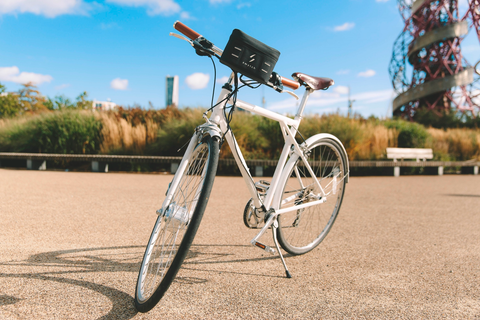 As we are experienced electric bike conversion kit suppliers, we have personally tested these products. And our selection is informed by consumer testimonials, expert reviews, discussions on relevant online forums as well as our institutional knowledge of the automotive industry.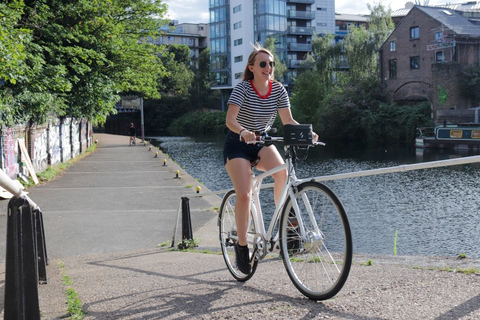 Contents
Best cheap electric conversion kit recommendations & reviews
Benefits of choosing cheap electric conversion kits, taking Esoulbike as an example
Points that need to consider when buying a cheap e-bike conversion kit
Tips on effectively fit our electric conversion kits
FAQ
Best cheap E-Bike Conversion Kit Recommendations & Reviews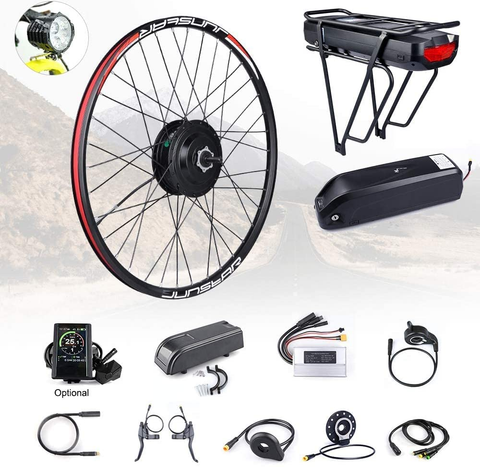 Bafang is a well-established maker of electric bike motors and offers a front hub-based motor if you're not a fan of the bulky profile a mid-motor conversion system creates.
You can buy this kit without a battery – although why would you? – but if you sensibly also opt for a power-pack there's a choice of amp hours, and you can select either a downtube or a rear-rack mounted version.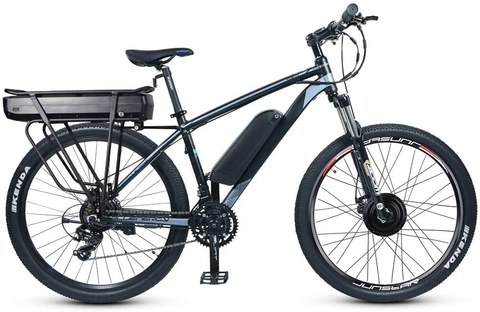 SPECIFICATIONS
Capacity : 11.6 – 17.5Ah options (45km/28mi – 68/km42mi)
Torque: 
65Nm
Compatibility: Disc brake with a quick-release axle
Wheel sizes: 20", 26", 27.5"/650b, 28"/700c
REASONS TO BUY
+Good value
+Less bulky
REASONS TO AVOID
-Could do with better instructions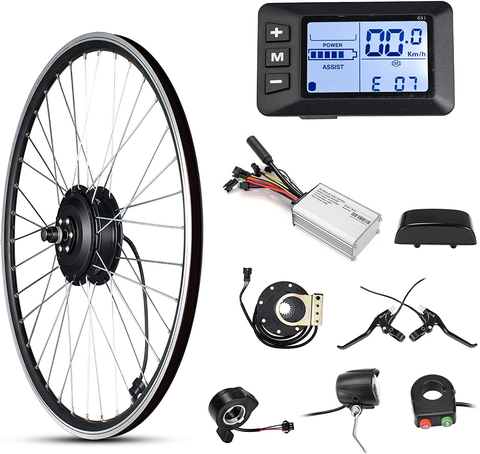 This electric bike kit is designed to be used on the road, with a 250W motor that's limited to 15. It can be fitted to almost any bike with a quick-release front hub and comes with a six-speed Shimano cassette, an alloy chainring, and all the fittings you need. You will need to supply your battery though – Minoura suggests a bottle type with a minimum capacity of 11Ah.
SPECIFICATIONS
Motor: 250W brushless DC
Speed: 15mph/24km (EU)
Compatibility: Quick release hub with a skewer
Wheel sizes: 20", 26", 27"/700c, 650b (27.x) or 28"/700C
REASONS TO BUY
+Can be used on almost any bike
+ road-specific electric bike kit
REASONS TO AVOID
-You will need to supply your battery
- Not the cheapest option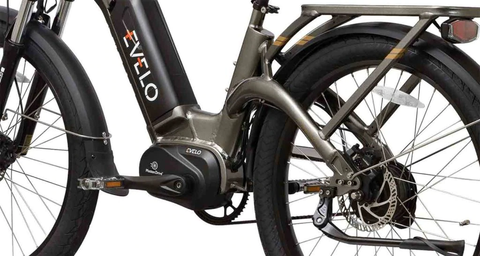 If you're looking for a mid-drive electric bike kit, the Dapu ST90 is a great option. It's designed to be used on mountain bikes with suspension forks, and it comes with a battery, charger, control unit, and all the necessary cables and fittings. It's also one of the more affordable mid-drive electric bike kits on the market. 
SPECIFICATIONS
Motor: 250W brushless DC
Speed: 25km/h (EU)
Compatibility: Mountain bikes with suspension forks
Wheel sizes: 26", 27.x"/650b or 29"/700c
REASONS TO BUY
+Great for mountain bikes
+Affordable
REASONS TO AVOID
-May not be compatible with all-mountain bikes
Best bike conversion kit for simple fitting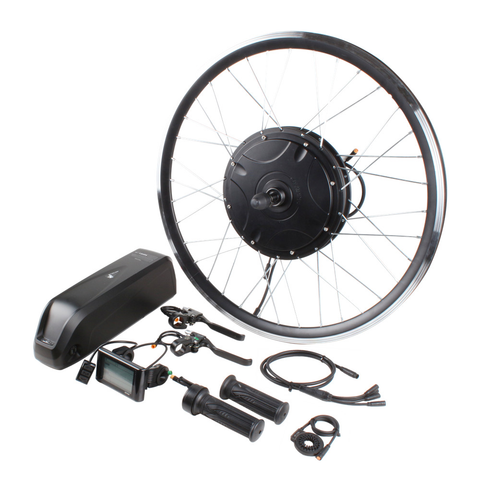 The Swytch system is one of the simplest conversion kits to fit out there and yet is still amongst the cheapest. The motor sits in the front hub and is pretty discreet, while the battery pack sits in a bag that connects to the front of your handlebars.
This setup makes it one of the most straightforward front-hub conversion kits currently out there, although it does mean the battery size is a little lower than other systems which mount the battery in the main triangle or a rear rack.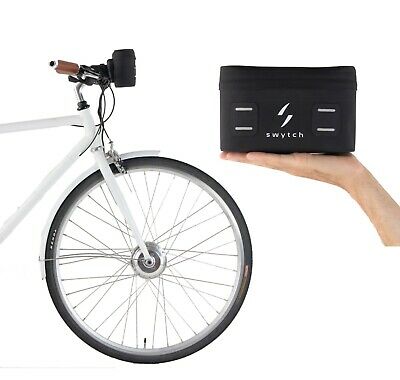 SPECIFICATIONS
Capacity: 7Ah (21km /13mi or up to 50km/30mi when ridden economically))
Torque: 40Nm
Compatibility:: Rim brake and disc brake with 100mm quick-release dropouts
Wheel sizes: Each wheel is custom built – specify your required size at checkout (Bromptons also catered for)
REASONS TO BUY
+Very simple to set up
+Sleek design
+Relatively lightweight
REASONS TO AVOID
-Shorter range
-Speed limitation
Best mid-drive system for weight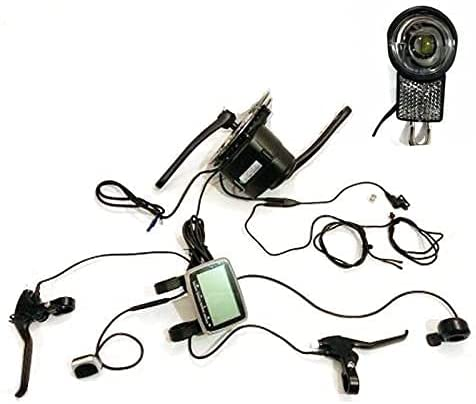 Like the Bafang mid-drive system, the TongSheng offers the same benefits of compatibility with a wide range of bike designs and a high torque for steep hills and off-road terrain. However, the TongSheng mid-drive does manage to be a little lighter than the Bafang for approximately the same power.
SPECIFICATIONS
Torque: 80nm
Compatibility: Only alloy bikes and bottom brackets 68–73mm
REASONS TO BUY
+Lightweight for the power output 
+Compatible with a wide range of bike designs
+Better ground clearance
REASONS TO AVOID
-Battery must be bought separately
The best price/performance ratio for electric bike conversion kits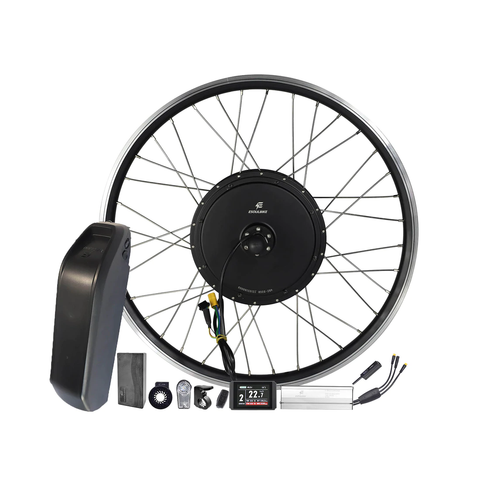 Balance, power, and multifunctionality combine with the Mid Drive Motor conversion kit. With a few simple tools and a couple of hours, the EsoulBike mid-drive conversion kit replaces your existing crankset and shaft with a 250W motor ideal for cruising at moderate speeds and with light loads.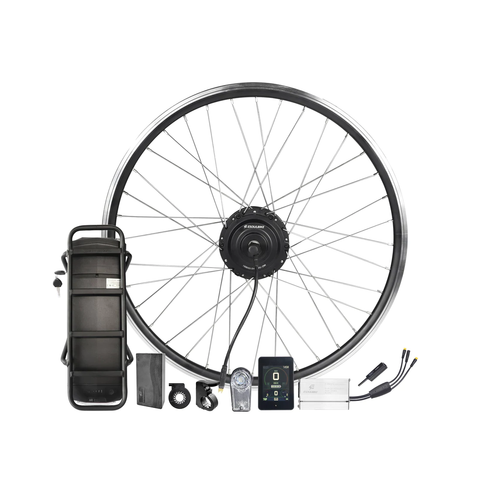 It can be installed on any road bike, mountain bike, or cruising bike with a standard As far as riding modes go, the Esoulbike mid-drive kit is as simple as it gets with the electric or pedal-only operation. Installation hardware, battery, and display are included too.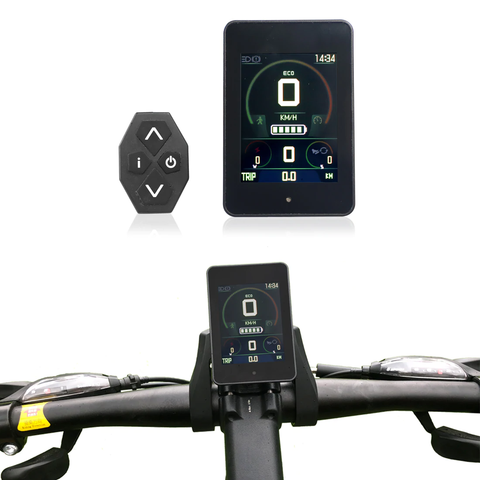 ESOULBIKE 36V 250W ELECTRIC BIKE CONVERSION KIT SPECIFICATIONS
Speed: 25-28KM/H
Range: 45KM-80KM
Motor: 36V 250W - Geared Rear Motor With Double Waller Aluminum Rim
Throttle: Variable Speed
Battery: Lock Yes!
Weight: 2.8KG
Disc Brake Compatible: Yes!
REASONS TO BUY
+Good power output
+Affordable
+Lightweight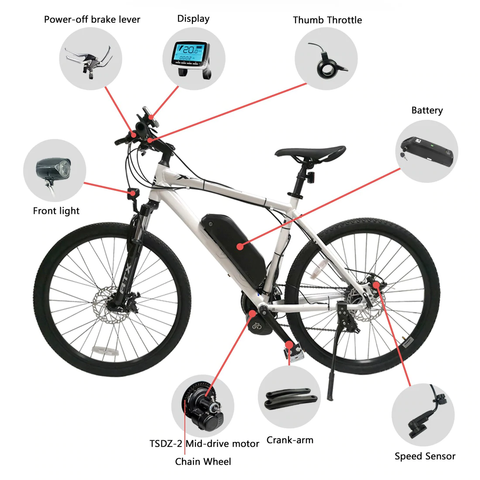 Benefits of choosing cheap electric conversion kits, taking Esoulbike as an example
Are cheap electric bike conversion kits any good?
Just because something is cheap doesn't necessarily mean it isn't any good. I have converted countless bikes using budget 500w and 1000w rear-wheel electric conversion kits and I have had very few issues.
The direct-drive hub motor has been around for a long time and even though they are considered 'old-hat' nowadays, they are still a very cheap and effective way to add electric assist to your bike.
By making high-quality e-bike kits that are easy to install and use, lightweight and portable to all, we are fulfilling our dream of making urban riding effortless, speedy, eco-friendly, and joyful for everyone.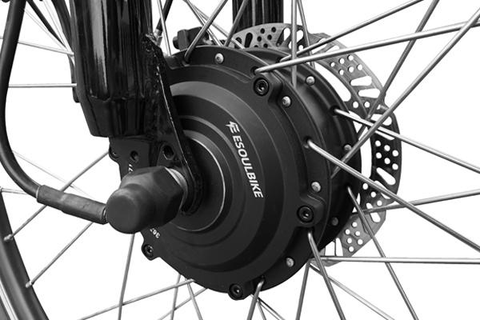 Esoulbike is a direct-to-customer brand. The exceptional riding experience provided by Esoulbike goes beyond the ordinary, but our prices remain competitive. Thanks to a robust supply chain and 20 years of industrial experience, Esoulbike price is lower by 5-10% than peers.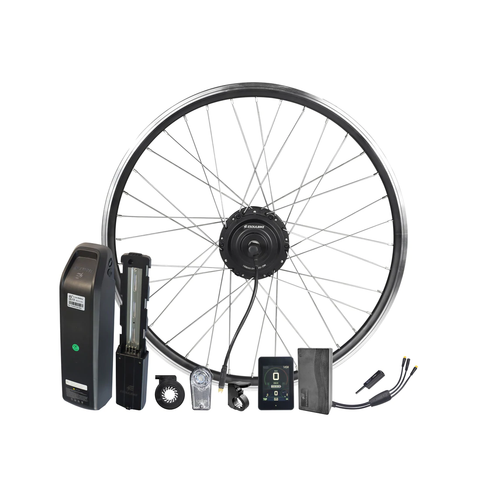 Esoulbike electric bike kits are very environmentally friendly with no carbon emissions. Choosing Esoulbike can bring you a more enjoyable ride on the most stylish, affordable, and comfortable e-bike around!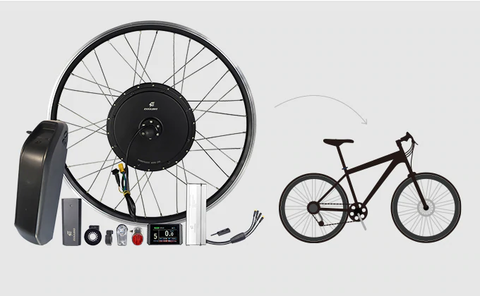 Points that need to consider when buying a cheap e-bike conversion kit
Now that you know a bit more about electric bike conversion kits, let's go over what factors you should consider before buying one.
There are six main compromises to consider when buying a cheap e-bike conversion kit.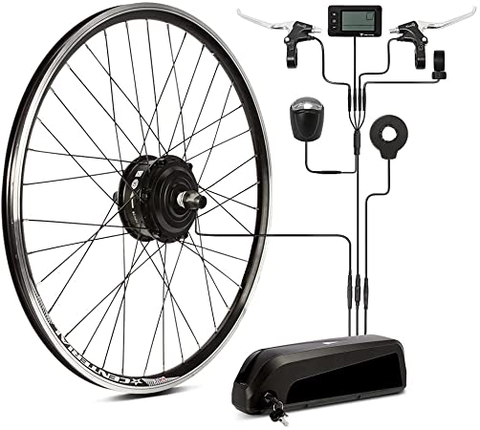 1. Motor Type
There are three main types of e-bike conversion kit motors: front hub, rear hub, and mid-drive. The type of riding you do will largely determine what type will be best for you. Front and rear hub motors are relatively easy to fit and maintain.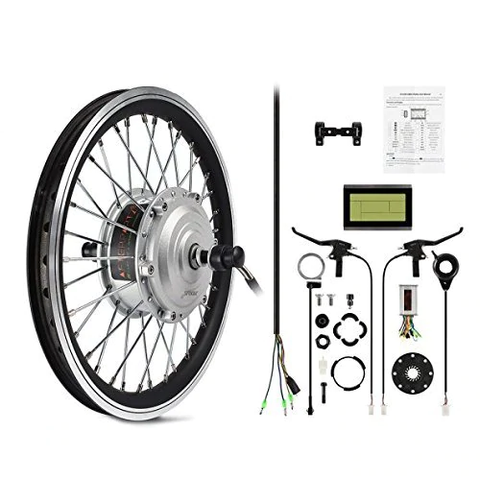 They also place less strain on your bicycle's drive system. They're great options for commuters who want to lighten the load on their way to work or simply get around faster. But you could be restricted in terms of what parts you can use, especially when it comes to tires, rims, and cassettes.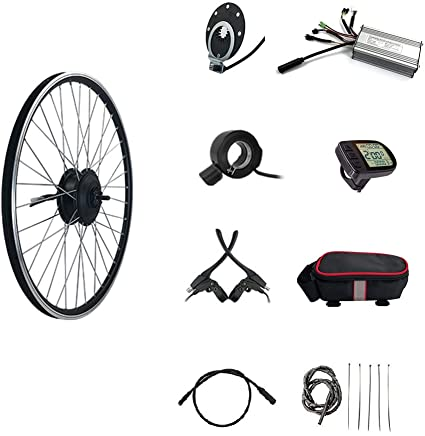 Mid-drive motors also work well for commuting, but where they really stand out is off-road. You'll be able to use whatever chain, cassette, tires, and rims you like, but they'll need to be heavy-duty to withstand the motor's torque.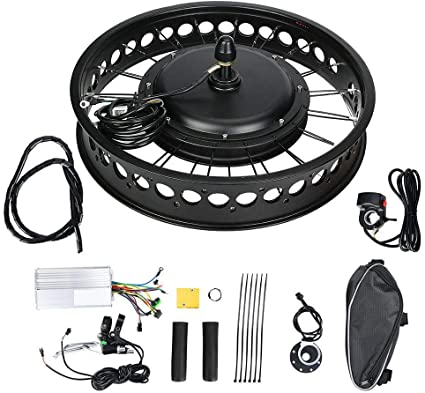 2. Output
The next thing you should consider is how much power you'll need. The two figures to consider are watts and newton meters of torque.
How many watts an e-bike motor has is similar to how much horsepower a car has. The power output of an electric bike conversion kit is usually measured in watts. The higher the wattage, the more powerful the motor will be.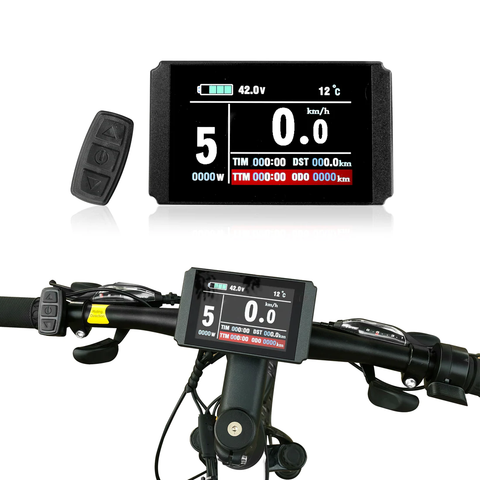 The continuous wattage is how many watts the motor can sustain continuously without overheating. If you're just looking for a bit of extra help on your commute, then a 250-watt motor will probably suffice.
But if you want to go off-road or tackle hills, you'll need at least 500 watts. Anything more than that is overkill for most riders.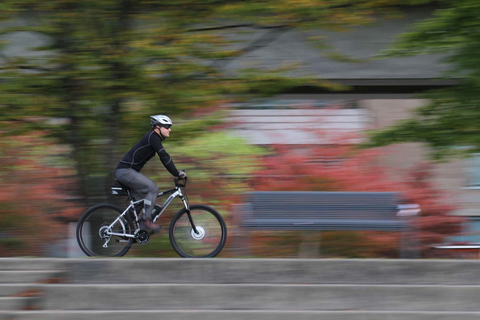 3. Controller
The controller is the brains of the electric bike conversion kit. It regulates how much power goes to the motor. Most controllers these days are programmable, which means you can customize how they work to suit your riding style.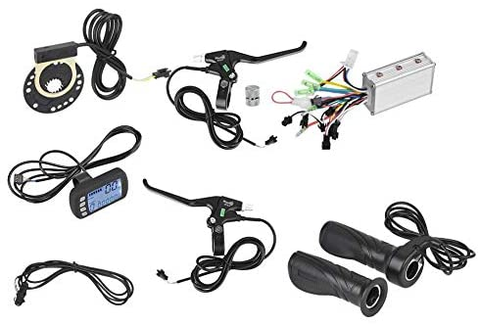 For example, you can set the motor to provide more power at lower speeds or less power at higher speeds. You can also usually set a limit on how much power the motor can draw from the battery.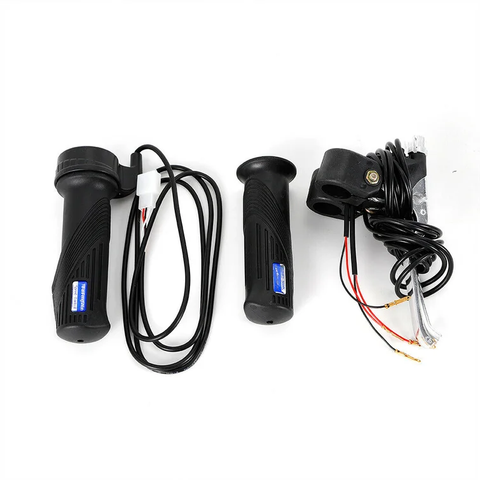 4. Battery
Some kits come with a battery, but many don't. Even the kits that come with a battery usually have several options to choose from, so you'll need to decide which one best suits your needs. The larger your motor is, the faster it'll drain your battery.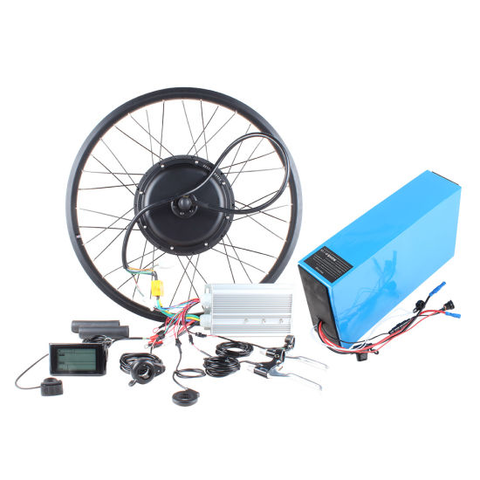 To figure out how many watt-hours a battery has, multiply its amp hours by its voltage. For example, a 48-volt battery that's using a 10-amp-hour controller will be 480 watt-hours.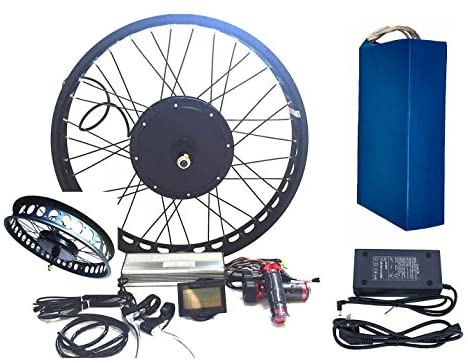 If you're using a 500-watt hour battery, it can deliver 500 watts continuously for one hour or 1,000 watts for 30 minutes, etc. Of course, if you use the pedals and a low motor assistance setting then, you'll extend the battery life.
To determine the right battery for you, you need to consider the size of your motor, how long you ride each day, and how much assistance you want from the battery when pedaling.
5. Sensor 
You'll encounter two main types of e-bike sensors: cadence and torque sensors. Cadence sensors detect when and how fast the pedals are moving via a sensor at the crankset.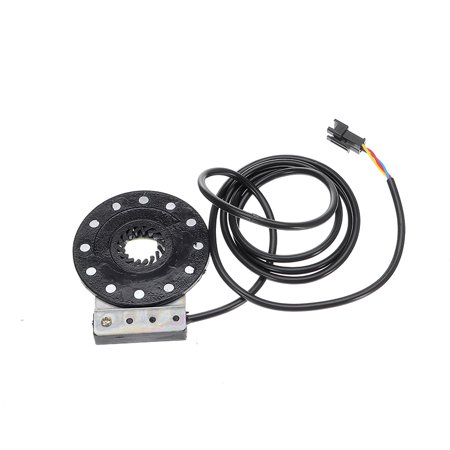 These sensors will apply a proportional amount of power from the motor relative to how fast the pedals are moving. Although these models are cheap and easy to fit, they can have jerky power delivery that feels unnatural.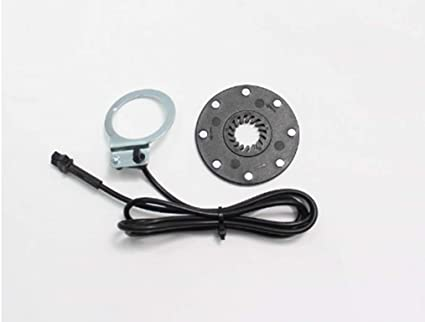 Torque sensors deliver power depending on the force of rotation applied to the crankset. These sensors feel a lot more natural, especially when ascending or descending steep hills.
Some riders even forget that they're being assisted by the motor. When compared to cadence sensors, torque sensors can even extend the battery's range, as they only deliver as much power as needed.
6. Compatibility
Before buying an e-bike kit, you need to make sure it's compatible with your bicycle. If you're buying a front or rear hub motor, make sure the dropouts are wide enough to accept the electric motor and that the motors will work with the type of brakes your bike uses. Some rear hub motors won't work with anything larger than a 7-speed cassette.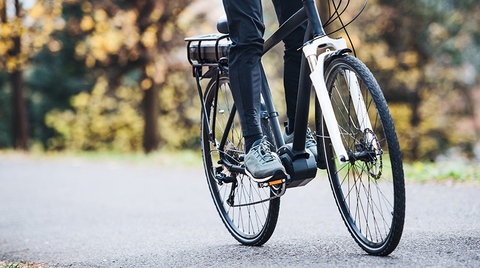 If you opt for a mid-drive motor, make sure that it's compatible with your bicycle's cassette and the diameter of its bottom bracket. Manufacturers list the diameter that their motors are compatible with and (normally) have options to fit various cassette sizes.
Mid-drive motors also put considerable stress on your bike's drivetrain and frame so, if you want a powerful motor, make sure your bike's components are suitably durable.
Tips on effectively fit our electric conversion kits
1. Remove the Old Wheel
Do this in the same way as you would when you're changing an inner tube.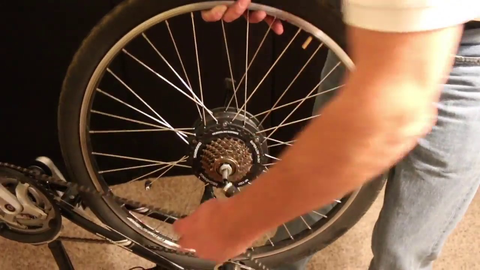 2. Inset Electric Wheel
Just like the last step, you can do this in the same that you would for normal bike maintenance.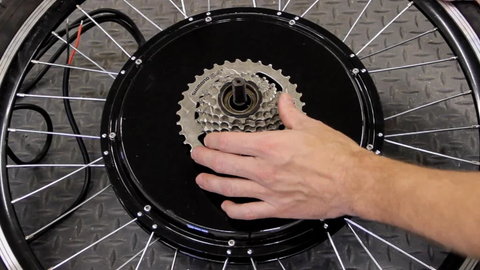 3. Install Brake Levers 
Remove your old brake handles and replace them with those that came with your kit, then reattach your brake cable.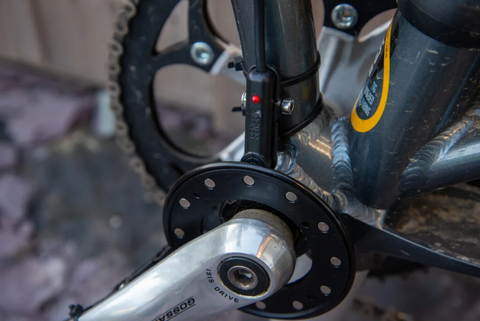 4. Install Controls and Meter
Install your meter and throttle on your handlebar. Then tighten up the screws to secure them.
5. Connect Sensor and receivers
Your speed sensor needs to be connected to your wheel spoke. Zip-tie your receiver over this.
6. Install Pedal Sensors on Crank Arm
Unscrew your crank arm with a wrench, insert the sensor, then add a washer to secure it in place. Finally, reattach your crank arm.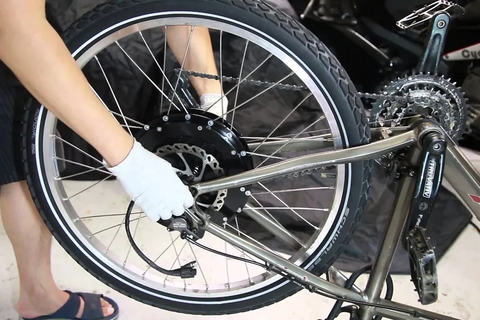 7. Mount Battery to Bike
Install the mounting plate to your bike as easy as turning the screws into place.
8. Connect Your Wires
Connect your wires to the controls, they should be color-coded to make this simple. Then use zip-ties to tighten them in place.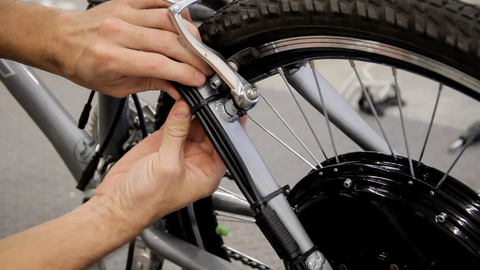 9. Test it Out
With everything done, all that is left is to test it out.
Conclusion
These are just a few of the electric bike conversion kits on the market. To learn more about electric bike conversion kits, or to find the perfect kit for your needs, contact an experienced electric bike dealer or shop online today!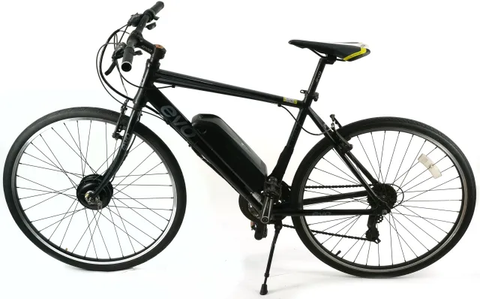 Thanks for reading! We hope this guide was helpful in finding you the best cheap electric bike conversion kits on the market. If you have any questions or comments, please feel free to leave them below. Happy biking!