Electric bikes have gained immense popularity in recent years due to their eco-friendly nature and cost-effective mode of transportation. As the demand for electric bikes grows, so does the need for affordable options. In this article, we will explore the cheapest electric bike kits available in 2023, providing you with a comprehensive comparison to help you make an informed decision.
Introduction
The allure of electric bikes lies in their ability to provide an eco-friendly and cost-efficient alternative to traditional transportation. Electric bike kits offer a way to convert your existing bicycle into an electric-powered one without breaking the bank. This article dives into the realm of the most economical electric bike kits available in 2023.
Benefits of Electric Bike Kits
Electric bike kits offer several advantages. They are more affordable than purchasing a brand-new electric bike, making it an attractive option for budget-conscious individuals. Additionally, converting your regular bike into an electric one is a sustainable choice as it reduces the need for manufacturing new bikes.
Factors to Consider Before Purchasing an Electric Bike Kit
Before you jump into purchasing an electric bike kit, there are a few key factors to consider. First, assess your riding needs – whether you need a kit for urban commuting, off-road adventures, or leisurely rides. Next, evaluate the compatibility of the kit with your existing bike and the ease of installation. Finally, consider the performance, range, and customer reviews to ensure you're making a well-informed decision.
Top 5 Cheapest Electric Bike Kits in 2023
Kit 1: Hilltopper 36V 250W
Conquer that hill and grin big as you activate your new super powers! The compact & lightweight 250W motor provides a top speed of 16 mph at the push of a button. New features this year include an easy to remove water bottle battery, a battery lock, disc brake compatible hub, a USB charging port for your phone, a thumb throttle that allows you to control how much power the motor gives you, a higher efficiency Hilltopper motor that gives more torque for energy used, and an upgrade to 36 volts. This is the original Hilltopper that started the e-bike revolution, updated for 2022. Rugged. Simple. Awesome!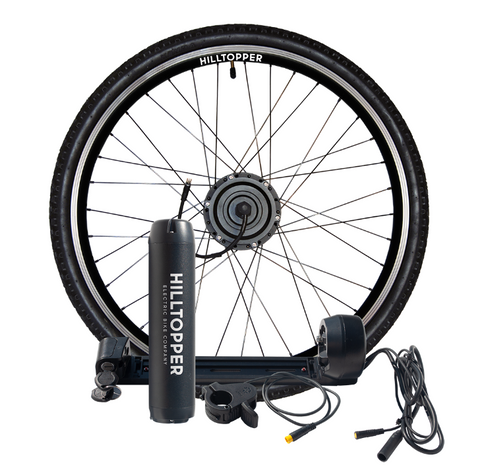 Kit 2: ebikebc-36V 350W
IThis kit is designed for bicycles or trikes with frame capable of installation of down tube battery, and is suggested for people bellow 100Kg (220lbs) weight. It delivers the top Canadian regulation permitted. It also has the performance to ride continuous up-hills with 5-10% road grade.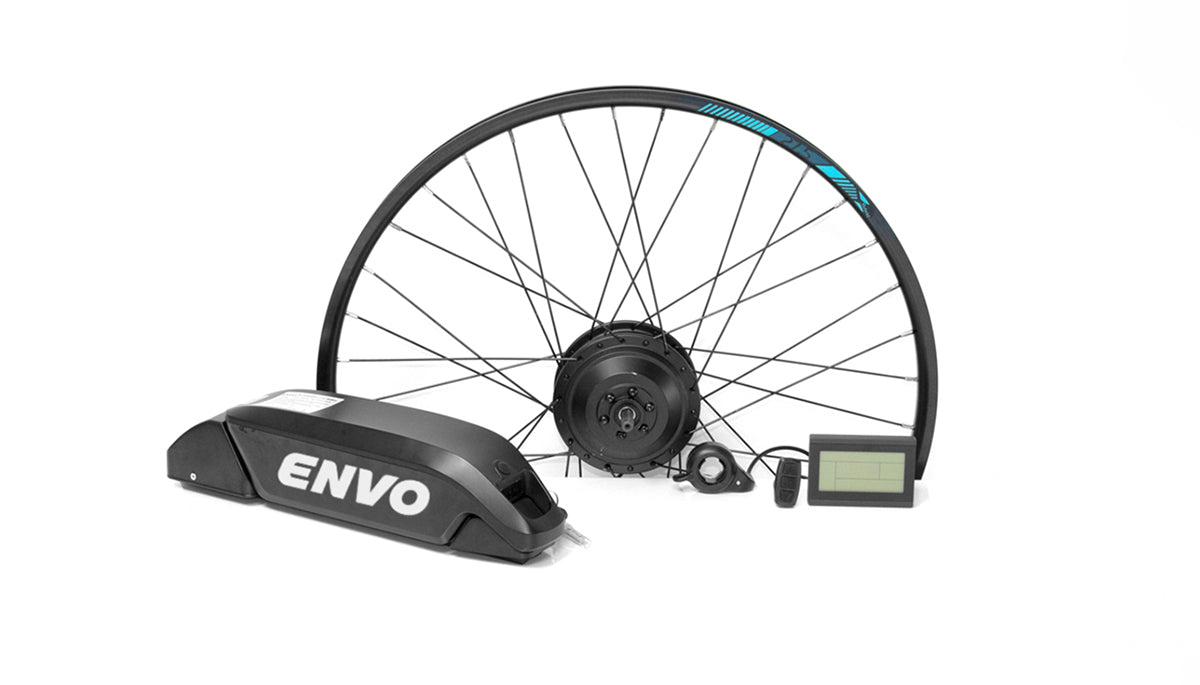 Kit 3: ebikeling-36V 500W
Ride with confidence and take on any terrain with our powerful electric bike conversion kits. Engineered with the highest quality materials, eBikeling is designed to handle any adventure, whether you're cruising through the city streets or exploring the great outdoors.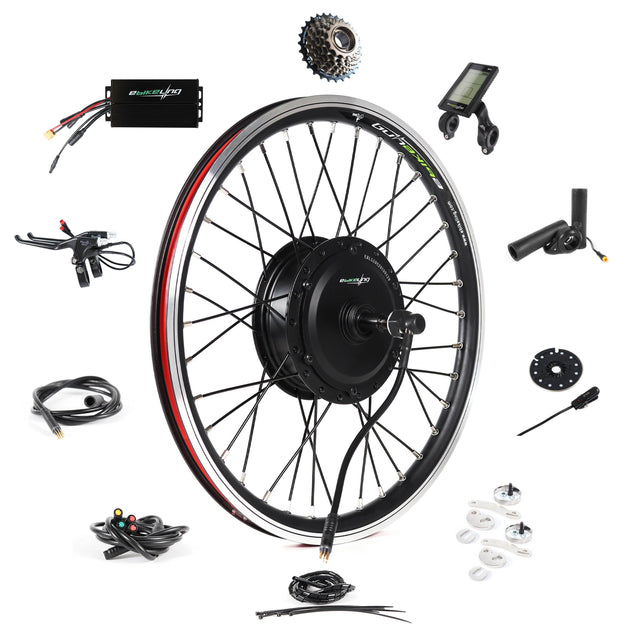 Kit 4: Esoulbike-36V 250W
Whether you're commuting, running errands, or exploring trails, this Esoulbike-36V 250W versatile kit adapts to various terrains. It offers multiple riding modes and robust battery life.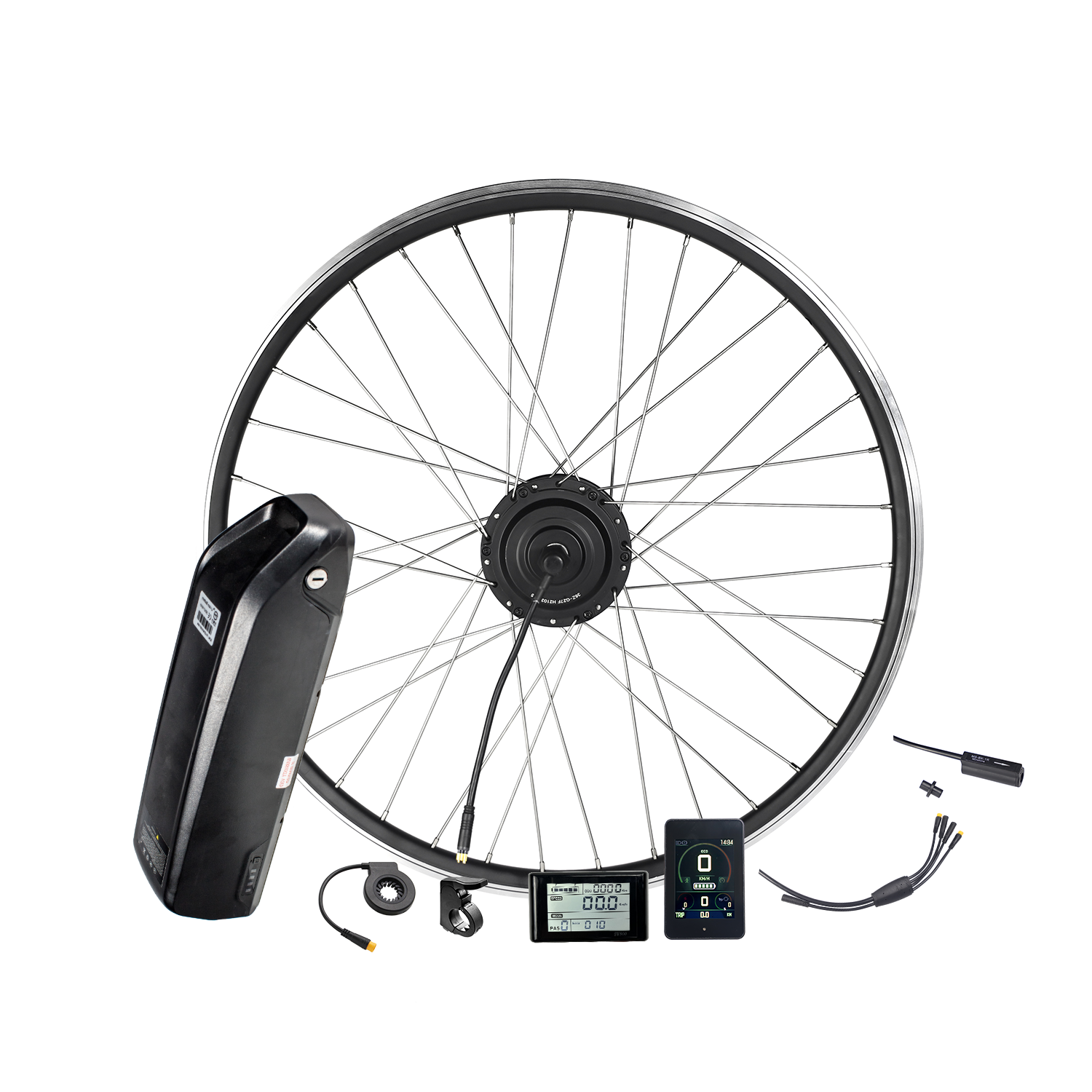 Kit 5: TSDZ2 36V 250W Mid Motor
The Tongsheng TSDZ2 e-bike conversion kit is a great way to convert your standard bike into an e-bike. The kit is easy to install and only requires a few simple tools.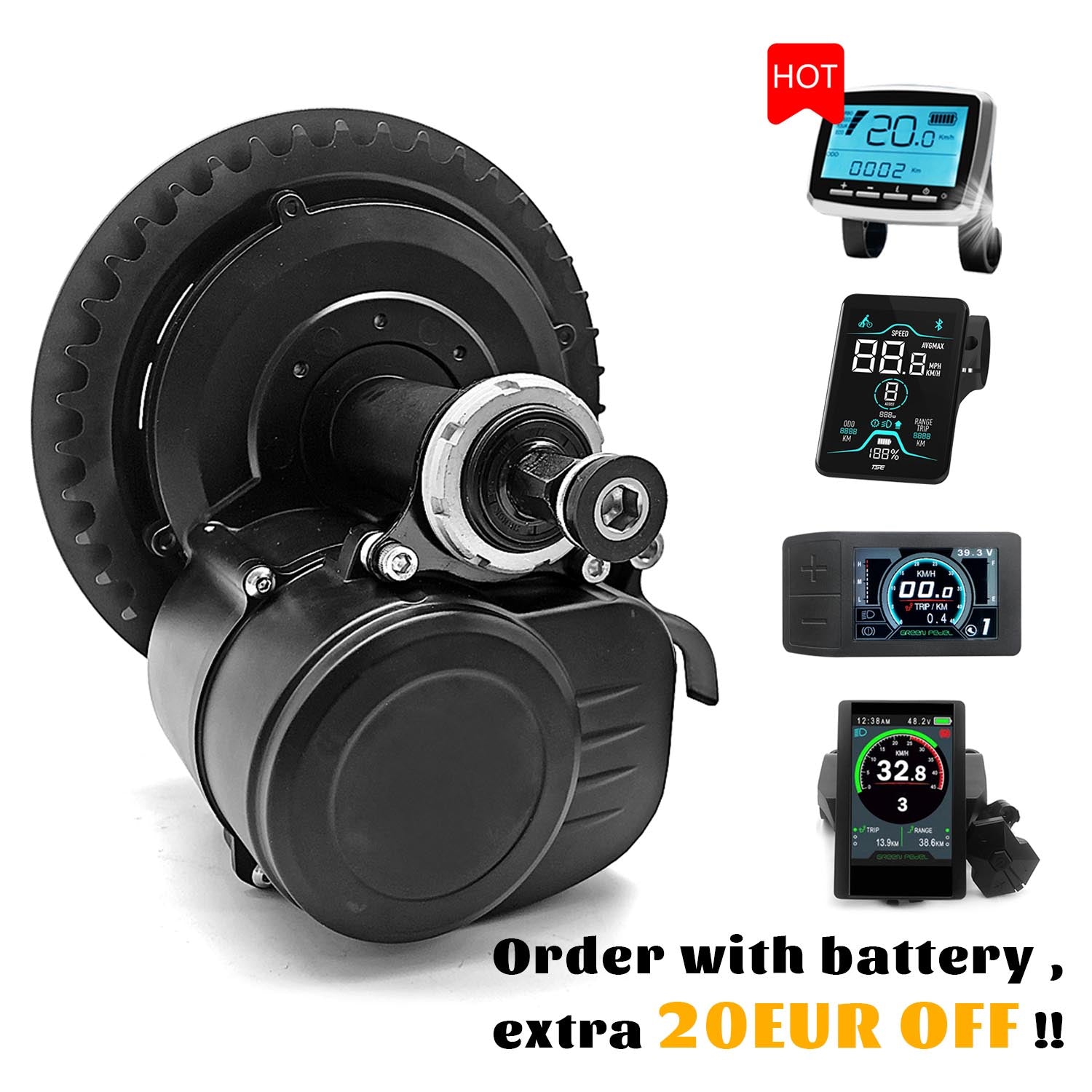 Comparative Analysis of the Kits
| Product Name | Configuration | Shipping | Price |
| --- | --- | --- | --- |
| Hilltopper -36V 250W | Speed:16 mph                  Range:12+ miles                  Power:250 Watts                  Motor:36 Volt Front Wheel Drive Battery:5.4 Ah                        Battery Gauge:No                      Throttle:Variable Speed | Free Shipping | $549 |
| ebikebc-36V 350W | Power Rated:350W                Motor:36 Volt Front Wheel        Max Speed:32km/h                  Max Torque:60Nm                  Drive Battery:12.8 Ah | Free Shipping | $680 |
| ebikeling-36V 500W | Power Rated:500W              Motor:36 Volt Front Wheel       Max Torque:40Nm                     No battery | Free Shipping | $339.99 |
| Esoulbike-36V 250W | Max RPM:270rpm                    Speed:25km/h                    Range:50+ miles                Power:250 Watts                  Motor:36 Volt Front Wheel Drive Battery:13 Ah                   Throttle:Thumb | Free Shipping | $587 |
| TSDZ2 36V 250W | Speed:25-40km/h                  Power:250 Watts                Motor:36 Volt Front              Bracket bottom length:68-73mm Max Torque:80Nm | Free Shipping | $321 |
Installation Process and Compatibility
Installing these kits is designed to be user-friendly, requiring basic tools and minimal technical knowledge. Most kits are compatible with a wide range of bike types, but it's essential to confirm compatibility before making a purchase.
Performance and Range
The performance and range of these electric bike kits vary. Kits designed for urban use prioritize agility and quick acceleration, while those aimed at off-road experiences focus on durability and longer battery life.
Customer Reviews and Feedback
Customer reviews provide valuable insights into real-world experiences with these kits. Look for reviews that match your riding needs and pay attention to feedback regarding installation, performance, and after-sales support.
Maintenance and Longevity
Maintaining these kits usually involves basic care, much like a regular bike. Regularly check the battery, motor, and other components as per the manufacturer's guidelines to ensure longevity and consistent performance.